Champasak
Champassak, quiet town of 40,000 souls, is located along the Mekong River, offering pleasant walks at sunset. Ancient royal city, it is inhabited mainly by Lao Loum and Lao Thin and extends 7km along the Mekong. The most active area is located on each side of the fountain, where you will find nice small hotels along the Mekong.
Champassak has an architectural style based on a mix of old colonial mansions and traditional Lao houses. But the main attraction of the city is the magnificent Wat Phou temple located 8km from the center, dating from the Angkor period.
In February, the festival of Vat Phu animates the city for three days.
Moreover, Champassak  province, with more than 500,000 inhabitants, remains one of the most visited Laos. The incredible scenery contained in this territory is almost unavoidable step in Laos for lovers of adventure and discovery. Sites not to be missed are the Bolaven Plateau in the west, the Vat Phu Champassak and 4000 islands, while the South.

Pakse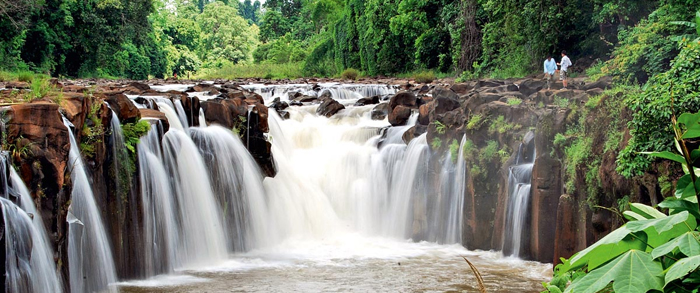 Pakse is the capital of the ancient kingdom of Champassak in southern Laos. There admire some beautiful colonial facades, like the Chinese Society, a bustling market with stalls weaving cotton and silk. Between the tenth and thirteenth century, the region belonged, in fact, the Angkor empire.
However, this is not Pakse that attracts people to come in South Laos. The city is rather an access point from which it goes to the Bolaven Plateau or in the region of 4,000 islands in the South.
A few kilometers from Pakse, the Temple of Wat Phou, a World Heritage by UNESCO, is a building of the pre-Angkorian art . Even if it can not be comparable to the Temples of Angkor in Siem Reap, Wat Phou was built long before the foundation of Angkor. This is the cradle of Khmer civilization. Wat Phou is also the most important archaeological site in Laos. It is a bewitching place among the finest in the country.

Wat Phou


Like the famous Angkor Wat, near Siem Reap in Cambodia, Wat Phou is very impressive. Located in a natural setting totally fell at the foot of the sacred mountain Phu Kao 8km from Champassak, this site seems mysterious. He was particularly World Heritage by UNESCO in 2001.
This is undoubtedly the most incredible archaeological site in Laos. Cradle of Khmer civilization, the ruins date from the IX to XII th century, but became a Buddhist place in the sixteenth century. The complex which was built Wat Phou is huge, more than 84 hectares and is a reproduction of terrestrial paradise.
A lined driveway Phaws the sculptures of Shiva from a large pool and leads to two ruined palace. Behind these ruins, a grand staircase leads to the sanctuary. The first tier is a statue of the founder of the temple, then continue the climb exhausting to the top where the sanctuary dominates the surrounding area and offers a sensational life. Behind the huge trees that make the enchanting atmosphere, a sacred spring flowing rocks.
Today the site is threatened by erosion and many of its buildings begin to collapse. But restoration projects are underway.

Bolaven Plateau


At 1200 meters, the Bolaven Plateau with moderate climate, is famous for its tea, coffee, rubber and banana trees and picturesque Katu and Alak villages. The Bolaven are traversed by rivers which give rise to magnificent waterfalls (Tat Tat Lo and Fan particular); guaranteed to thrill fans trek with hanging bamboo bridges.
From the city of Pakse , it is possible to tour Bolovens in one day making stops in ethnic villages and natural sites. It is also interesting for those who have a little more time to spend a night in the area to get the most visits.

The most interesting to see in the Bolaven places are:
- The fall of Tat Lo, very beautiful, in a typical tropical jungle. The site is even more interesting as there are many minority villages in the surroundings: ability to stay a whole day ( Tat Lo resort ) , to walk on foot, by bike or on elephant back .
- The fall of Tad Fan, as beautiful as her sister Tat Lo, in a thick jungle.
- The villages Kôkphoung and Tai - Pong, populated Ta Oi and K -Lac with their houses on stilts.
- Tea plantations and café where you can taste the products.
- The craft villages: blacksmith, basketry ..

Phou Asa (Trek on elephant back)


Phou Asa is about 40 km south of Pakse. It is a mountain overlooking the Mekong to the west and the Xe Pian Natural Park in the east.
Travelers who want a bit of adventure can try this experiment: Phou Asa mounted by a trek on elephant back. Elephants are managed by the village of Kiet Ngong. They are 13 in number. Treks through the forest and lit the streets of villages. This is not an exceptional trek, but it certainly gives a sense of adventure.

4000 Islands


The area of 4000 islands, Pakse to Veun Kham (border gate with Cambodia), is one of the most beautiful in the country. Here's all a drained by the Mekong River Basin. The soil is rich and rice grows well. This is the only place where the Mekong splits into many arms, forming hundreds of exotic islands: small villages in the shade of coconut palms, nonchalant and relaxed atmosphere. The impressive water downstream of River Falls before it flows into Cambodian territory.
To the east, the Xe Pian National Park offers a different kind of landscapes lit jungles on an incredibly red earth.
The here we discover a water people, living through the River: rice, fisheries, livestock. Laos many villages along the roads.
The Don Daeng Island( about 25 km from Pakse ). A small beautiful island size as it is in front of Phou Bassak mountain. Would recommend to travelers who like quiet, peaceful scenery, rest and cycling. It is possible to ride around the island with two options: option short of two hours (half of the island) and the long option 4 hours. The bike path through the rice fields, villages, forests. Absolute tranquility! The island is accessible by boat from Pakse Champasak or from the main road .
The Don Khong Island(about 130 km from Pakse ) It is the largest island of the region: the road that goes around the island is about 30 km It has two separated by a chain plains mountain . The island consists of 19 villages, 15 pagodas, one central market, large rice fields, drill lighted fields palm sugar. The island it - even is not unusual unless there is a bike circuit. But it is a point frequently proposed fall because it is from here that travelers take small boats to discover what is called "the region of the 4000 islands ": the waterfall Li Phi, the Don Khon island and the basin of freshwater dolphins.
Two or three good hotels, some restaurants offering great menus and an exceptional setting (right on the water).
The Don Khone Island(150 km from Pakse) is an exceptional site with extremely exotic landscapes. The island also has a historical value for the French because it is here that they have built in the colonial era, a railroad to transport the goods, because the Mekong River is impassable .
It is possible to ride a bike on the island, through authentic villages. The walks are also possible. It is from this island that one can easily access the Li Phi waterfall and pool where freshwater dolphins live. It is strongly recommended to sleep here to enjoy the magical atmosphere of the Mekong.
The city of Golden Buddha end, which was the capital of the Kingdom of Laos for many centuries, is the largest tourist destination in the country because of its fascinating natural setting, its historical and cultural heritage, and its typical atmosphere.